XR
Ancestral Secret VR (Secreto Ancestral VR)
Ancestral Secret VR is a virtual reality project made in co-creation with members of the Q'ero indigenous community of Peru.
The experience places the user in the magical landscape of the Q'ero community, in the heights of the Vilcanota mountain range, the place where the last Incas lived.
It is a contemplative journey with interactive moments, in which the user transits between the physical reality of the Q'ero and their sacred dimension, where the cosmovision and their ancestral rites are made visible through animation.
This piece invites the young audience to connect with nature, from the ancestral perspective of the guardians of Inca spiritual knowledge.
Project financed by Medienboard Berlin-Brandenburg 2022, Germany.
Project Suported by Games for Change, USA.
Project Selected at Geneva Digital Market of Geneva International Film Festival 2022, Switzerland.
Project invited to exhibit at the Conference Sessions "Best Latin American XR projects of Mediamorfosis" of the SXSW festival 2022, USA.
Project selected in the New Latam Voices program organized by Garage Stories and Forum des Images 2022, France.
Project selected in the market Conecta con los nuevos medios 2022, Chile.
Project selected in the Latin American forum of New Media, Mediamorfosis 2021, Chile-Argentina.
Project selected in the youth audience market M:Brane 2021, Sweden.
Project selected in Idfa DocLab Forum 2020, Netherlands.
Best Digital Experiences Pitch A2020, Sunny Side of the Doc, France.

Project financed by the Audiovisual Fund 2020, Ministry of Cultures, Arts and Heritage, CHILE.
VIRTUAL REALITY
Director: Francisca Silva & María José Díaz
Director of Technology:
Ricardo Tapia (Oktopus Studio)
Duration: 20 min
Year: 2023
Stage: Postproduction
Producer:
María José Díaz Merino
Coproducer:
NowHere Media (Germany)
Gayatri gayatri Parameswaran & Felix Gaedtke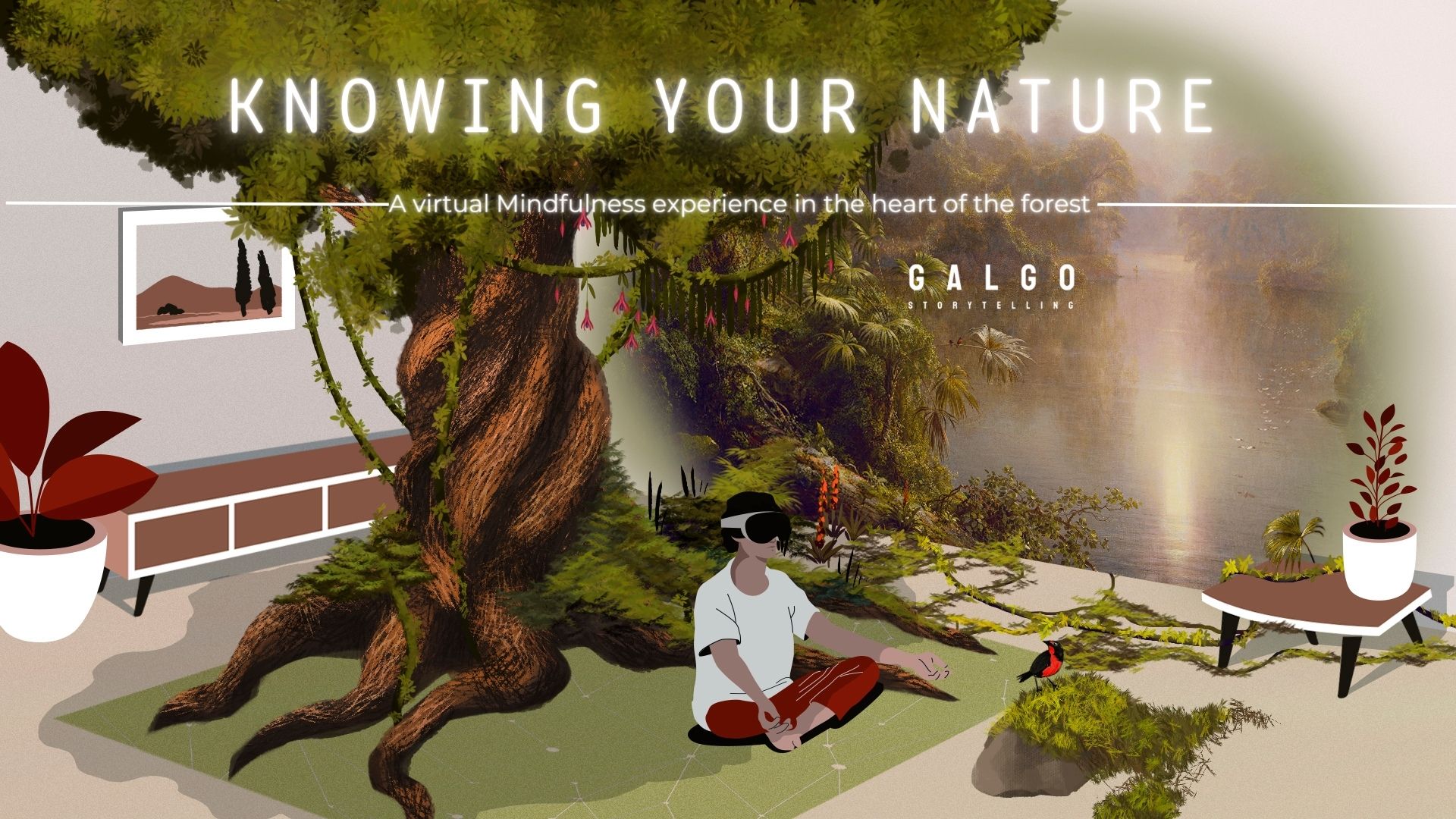 "Knowing your Nature" is a 10 episode Mixed Reality series in different places and moments of the native forest in the south of Chile, natural treasures of the planet. It is intended to be experienced with Oculus Meta Pro.

The practitioner will embark in an adventure throughout the forest and its mind, its different places and landscapes are both the pictorial representation and the very means with which users will be able to learn core mindfulness tools to enhance their mental health.

Going through the virtual forest and the different stages, diverse specialized meditation exercises unfold. These allow in depth exploration of psychological dimensions while training the resources to fully connect to their senses, with the flora and fauna of the forest and with their own nature. This experience is an art, science, technology and conservation project that aims to bring mental health tools to users, to address the growing number of worldwide prevalence of mental health disorders. This project is an invitation to reconnect with our own nature, in the dense forest of our minds.







MIXED REALITY SERIES
Director: Francisca Silva
Scientific Creator: Simón Guendelman
Game Designer: Ignacio Rojas
Duration: 10 episodes, 45 min each
Year: 2025
Stage: Development
Producers:
María José Díaz Merino

Isidora FajardoI
Coproducer:

Atlas V
Antoine Cayrol